Directions, transport, maps and accommodation.
Our address is:
Department of Computer Science and Information Systems
Birkbeck, University of London
Malet Street
London WC1E 7HX
Tel: 020 7631 6700 (from UK) [+44 20 7631 6700 (International)]
Fax: 020 7631 6727 (from UK) [+44 20 7631 6727 (International)]
The Department is located in the Birkbeck Main Building (location 1 on the map below)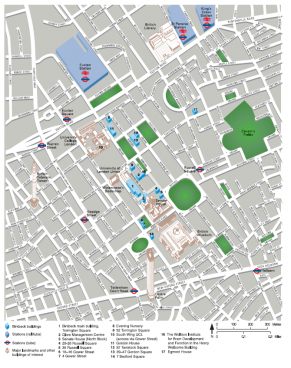 We hope that you enjoy your visit to Birkbeck and to this culturally rich area of London. Bloomsbury is famous for being the academic heart of London - contained within a square mile of world-class research resources such as the British Library and the British Museum.
List of nearby hotels PDF or Word format
Driving
If you are planning your journey by car, please bear in mind congestion charges. Our central London location also means that parking facilities are not only limited but may be expensive. For information about disabled parking facilities in Senate House, please contact Vivienne Frater on 020 7862 8122. View driving directions from your location to our main building in Malet Street - click here to view directions
Cycling
There is an extensive network of cycle routes leading to Birkbeck.