Photo Blog
22 March 2010 - Dimitrious Airantzis finalised the implementation of the 3D RepRap printer! Click here for more images.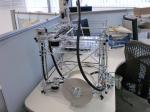 15 March 2010 - Dimitrious Airantzis finalised the implementation of the augmented object. The prototype consists of a plastic object with embedded LEDs, circuit board, and a very small digital screen, which displays different colours according to its motion. It will be used with children to investigate their interpretation of movement. Click here for more images of the latest version.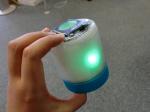 26 October 2009 - Click here for images of the latest version of the tabletop environment.
19 March 2009 - A high resolution/ print quality image of the table. Click here for a TIFF IMAGE (11.5MB) or click the image below for a low res jpeg image.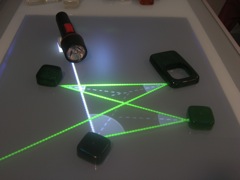 11 March 2009 - Photos of the DIY process for installing fans on the end of the tangible table.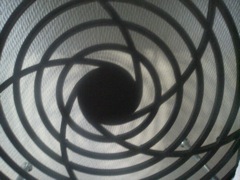 9 March 2009 - Photos of the physics of light experiments which are conducted with tangible objects in a school setting. Thank you to Steven Chapman at the IOE.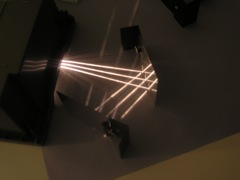 27 February 2009 - Visit to the Science Museum's Dana Centre to talk about the 'Surface Tension' event.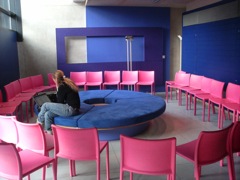 24 February 2009 - Testing a transparent, frosted and opaque fiducial on the interactive surface to see what the minimum frosting needs to be.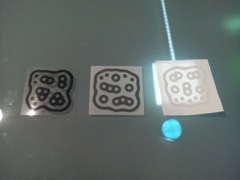 16-18 Feb 2009 - We demoed our work at the Tangible and Embedded Computing conference in Cambridge, UK.
5 Feb 2009 - We are in the process of putting the pulleys on the printer, so it should be up and running by the end of February.
19 Jan 2009 - A list all of the general assembly instructions for Bits From Bytes here for our own reference. A visual layout helps in finding the correct PDF instructions or 3D graphic.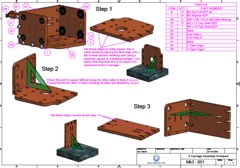 9 Jan 2009 - Using Fire Cement to build part of the heater for the 3D printer (ie. the part that melts the polymer onto the surface). This was the most dangerous bit of the build and required some additional hands. I liked how the label on the Fire Cement said "conditions of use are completely beyond our control"...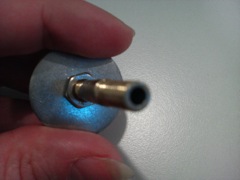 1 Dec 2008 - Back to building our 3D printer. I've had to ask Bits and Bytes to send a few more pieces that the laser didn't cut all the way thorugh. I tried to drill out the bits but ended up cracking on piece and it took way too long to file out the middle bit. But the printer is starting to take shape...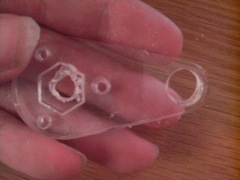 28 Nov 2008 - A new version of our video is available here: .
21 Nov 2008 - Spent most of the day filing and getting more of the x carriage completed - the filing took several hours. Unfortunately when I was trying to file through one piece of Perspex where the laser hadn't cut through, the piece cracked in two. Argh. Am trying to get a replaement sorted :(.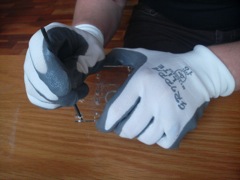 20 Nov 2008 - Bought some new tools today including one with a very wierd name and one that's become my new best friend, a miniature file set. Broke another nail. And I cracked one acrylic piece so I had to super glue it together. The corners are finished and I started putting the motors on.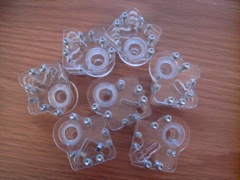 19 Nov 2008 - Today focussed on sub assembly. I had to rebuild a few pieces from yesterday after discovering that I had used the wrong sized screw! I also discovered that my screw set is just not small enough for some fiddly jobs. The acrylic cracks really easily under stress so I had to be really careful when I tried poking through bits of acrylic that the laser hadn't cut all the way through. Still a way to go but I feel like I'm making progress...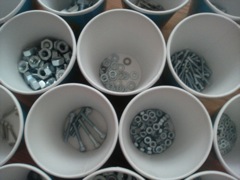 18 Nov 2008 - Yesterday I realised that several RepRap pieces needed filing/poking/proding. So I only half built some of the pieces and then went back to them today. And I broke another nail today. Sigh. Started building the X Frame assembly and the base today.

17 Nov 2008 - We've started work on our open source RepRap 3D printer and boy is it cool! Putting it together is not for the faint hearted - this is some serious DIY. It's like a giant puzzle and there's so many pieces it's crazy. We purchased ours from Bits from Bytes. I don't even know what some of the bits are called but I'm having an awful lot of fun trying to figure it out. Click here for some more pretty images or click this link for some images of the Bits From Bytes kit that we purchased.
? Nov 2008 - We showed researchers and teachers from UNAM (Universidad Nacional Autónoma de México - National Autonomous University of Mexico) our table. They were well impressed :D. Thank you to Wilma Clark for arrange it.
31 Oct 2008 - We've spent the month of October putting papers together for various international conferences.
29 Oct 2008 - Images of our table and artefacts with fiducials taken just after our September user studies and our demo at FutureScape08. Table is very stable now. Click here to see images.
9 Sept 2008 - We've made a video of our progress so far and we're showing it at the Shareables Workshop in Sussex later this week.
Small video (111MB - 320x240)
Medium video (214MB - 640x480)
Large video (478MB - 1280x720)
4 Aug 2008 - IR boards and update to prototype interface for looking at interaction between multiple fiducials on tabletop.

26 July 2008 - Prototype interface for looking at interaction between multiple fiducials on tabletop.
Click here for a short clip of our progress thus far.
18 July 2008 - IR Testing - An array of LD 271 and then YH70 (brighter!) versus LD 271
17 July 2008 - IR Bar
14 July 2008 - Embedded Artefact Prototyping - Tricolour LED
Click here for a short clip of the tricolour LED block and using acceleration to change its colours.
Click here for another short movie
11 May 2008 - Table Prototyping - Testing the AVT Guppy and iFire cameras.
09 May 2008 - Artefact Prototyping - Prototypes made of resin and painted with glass paint.
07 May 2008 - Camera Equipment - Guppy AVT camera and IR Filter.
05 May 2008 - Arefact Prototyping - Made of glass and leather.
20 April 2008 - Table Prototyping - Our second prototype.
04 April 2008 - Table Prototyping - Our first table and paper/perspex artefacts.
03 April 2008 - Design Workshop 1 - Paper prototypes at the London Knowledge Lab. Click here to see more images of the paper prototypes created.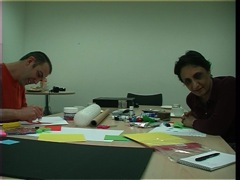 Project Team
Sara Price (PI, IoE), George Roussos (PI, Birkbeck), Jennifer Sheridan (Research Officer, IoE) and Taciana Pontual Falcao (Research Officer, IoE), Steven Chapman (Physics Advisor, IoE).
Project Support
This project is supported by the Engineering and Physical Sciences Research Council (EPSRC) grant number EP/F018436.
Project Progress
Photo Blog
Click an image to see more images of our project.
Conceptual / Empirical work
Read about the conceptual development of our project.

Click here for details.
Useful Links