Anders Ivarson
BSc & MSc in Information Systems and Management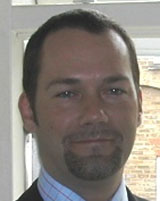 I knew, almost instantly, that this was the right course for me - one foot in Management and the other in Information Systems.
What is your background?
I come from a performing arts background. I started ballet training at the age of 10 at The Royal Swedish Ballet School in Stockholm. After leaving school I worked as a freelance dancer in Sweden and Denmark but at the age of 21 I was forced to 'retire' due to injuries.
Being forced to change my career plans, I began searching for 'what to do next'. My first intention was to study science but I soon realised that it would take four years just to complement my qualifications to meet the entry requirements to go to University. Instead I moved to London and studied Benesh Movement Notation (BMN is a written language to write scores of movement - a little like music scores but for dance). After qualifying as a Choreologist (another name for a Movement Notator) I worked for Dutch National Ballet, English National Ballet (have you seen Swan Lake at the Royal Albert Hall? I notated most of it!) and The Royal Ballet.
I left the arts world completely as I came to the conclusion that I wanted to do something different outside of the ballet world for a while.
Why did you decide to do a degree and why at Birkbeck?
While working for a housing management company I began thinking about University studies again as I felt that I needed a formal qualification to help my career progress. I also felt that it would be a good route to consolidate my experience to date (mostly self taught). I started searching for possible degree courses and found that I was either not eligible due to not having the required qualifications or the degrees were too narrow or the courses were aimed at full time students which was not an option as I, myself, was working full time. A friend told me to look at Birkbeck as they specialise in part time evening study for people with no formal qualifications.
Searching the BBK website I found the BSc Information Systems and Management and I knew, almost instantly, that this was the right course for me - one foot in Management and the other in Information Systems. The module choices available had the breadth, depth and range I was looking for!
In what way did you degree help with your career?
I think one of the major things I took away from my studies is that as a manager you do not always have the answers - it is often about researching for the answers you need. I think this insight was one of the factors that gave me a promotion to Change Manager. This role entailed aligning the company to a new regulatory framework, and this meant reading, reading, research and more reading and even more research - I have Birkbeck to thank for those skills. At this point I got the urge to return to the arts world (I was missing a creative atmosphere after 7 years away from it) so I moved to English National Ballet School as the General Manager and Company Secretary and the skills learnt at Birkbeck became even more useful. I am currently working for myself as an Arts Management Consultant and I am a Trustee of Royal Academy of Dance - I doubt I would have achieved this without my degree from Birkbeck.
Why did you decide to do the MSc?
I guess you could say that I am hungry for even more knowledge - I always knew that I wanted to continue my studies. However, again, I could not find any courses that 'drew me in' - they all felt a little narrow and not a perfect match for me. One day I went to the BBK website and I saw that they had just launched the MSc in Information System and Management. I emailed the Programme Director straight away. I started the MSc two months later - and I have not regretted at all!
Further information