Byron Delgado Saes
MSc in Information and Web Technologies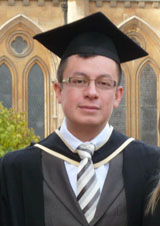 I tell everyone about Birkbeck - and the fact that it is never too late to study and to improve their future.
Twelve years ago I interrupted my University studies in my homeland Ecuador in order to come to England. My academic interests centred upon IT and its mathematical foundations. Upon arrival in England I undertook short IT training courses, and supported myself with work in unrelated jobs. Then I discovered Birkbeck - the only institution where I could continue to support myself in full-time work and still be able to undertake University-level studies. Six years ago I began with a Foundation Degree in IT, and then continued with a B.Sc. in Information Systems and Computing. Last year I graduated with a first class honours degree. Currently I am undertaking an MSc in Information & Web Technologies at Birkbeck, and I work as a web-developer for a company that specializes in the management of financial communications. The master's degree has proved to be challenging, and of considerable professional benefit to my career.
I am proud to be a student at Birkbeck. And I have learnt that Birkbeck is well-respected by employers and other academic bodies. Employers especially, realise that someone who has gained a high-level University education, whilst at the same time earning a living, is likely to be a dedicated and self-disciplined employee. Birkbeck provides a modality of learning which is exceptionally well-structured and which is backed-up by virtual internet environments, laboratory sessions, seminars, lectures and the constant support of the teaching staff. Lecturers demonstrate comprehensive knowledge of their subject, and many are involved in investigative research programs in their own specialist fields. I tell everyone about Birkbeck - and the fact that it is never too late to study and to improve their future. Education is the best investment you can make for yourself. Many people think about the lengthy period of time involved... but time goes quickly, and when you finally complete your studies, you won't regret it. I am very grateful to Birkbeck and its staff. I consider myself extremely fortunate to be here. It's unique!
Further information