Fehmida Mohamedali
MSc Informatics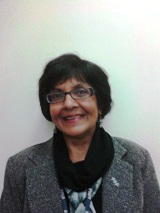 I have always liked my work but with this additional string to my bow, I can now explore my ability and creativity - the qualities that assist productivity in any work place.
Brief career to date: I took a four years sandwich course in Mathematics/Computer Science at Teesside University and graduated with a BSc in Mathematics in the mid 80's. Progressed onto studying for PGCE (Postgraduate Certificate in Education) at the University of Birmingham. My working career started with teaching in schools and later, I joined a large construction company as an IT Training Co-ordinator, responsible for implementing IT courses and delivering training to all personnel of the company in-house and away on-site, throughout the UK. From 2000 to 2005, I worked for the University of West London within the Further Education Sector, managing and running IT short courses. After 2005, I made the transition of moving from Further Education (FE) to Higher Education (HE), and to date, have been teaching and supporting undergraduate students.
Please summarise your current position/job: I work for the School of Computing and Technology at the University of West London teaching and supporting undergraduate students. My main teaching subjects are Information and Numerical Analysis and Professional IT.
What made you decide to study for a qualification in computing? After graduating, my career path had been strongly associated with ICT and geared around further education. After making the transition from Further Education to Higher Education, I felt that I needed to update my existing skills in order to support and teach my students on a varied range of modules with particular emphasis on technical content.
Why did you choose Birkbeck? Firstly, the flexibility of attending modules either in the day time or evenings, whilst still carrying on working full time. Secondly, the location of Birkbeck made it easy for me to commute directly from work and home.
How did your qualification help you in your career? Getting an exposure to a rich choice of modules has allowed me to obtain a better concept of different technologies that are around. I have been able to support my students with Java programming and project related work. On the whole, I feel more confident, competent and feel I am now able to deliver a first class performance within our school. I have always liked my work but with this additional string to my bow, I can now explore my ability and creativity - the qualities that assist productivity in any work place.
Did your time at Birkbeck help you in other ways? It was an interesting experience to be a student again after so many years. Making friends with students (some younger than me) , working to deadlines, time management etc was all a refreshing experience and took me back a few years. Being a tutor myself, observing lecturers and having the opportunity to see the varied approach to teaching methods allowed me to make comparisons and evaluate my own teaching strengths and weaknesses. My time at BBK has boosted my self confidence and it is so true that age is no barrier when the brain is thirsty for knowledge.
Which parts of your course were particularly enjoyable or useful? I have thoroughly enjoyed and have found the Introduction to Software Development together with Object Oriented Design and Programming modules very useful. The Database Management and Internet and Web Technologies module were equally interesting but somewhat challenging for me. Working on my project using a range of technologies such as Android, Java, PHP etc allowed me to consolidate lecture content and with the help of my very patient and supporting supervisor, equip me with skills to venture further. I will be focusing quite intensely with these newly learnt skills and try to keep up to date, from personal perspective as well as in my current job.