Jason Crampton
MSc in Computer Science, PhD in Computer Science and Information Systems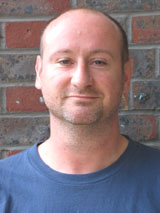 Having left college with a mathematics degree in 1986, I spent four years as a teacher of mathematics. I then joined NALGO as an administrative assistant in 1991. I stayed with NALGO (which became UNISON in 1995) for seven years, working mainly on allocation of members' subscriptions. It was at this time that I started application programming, which led to me applying for the masters course at Birkbeck. Having finished the masters, I did a PhD at Birkbeck under the supervision of Professor George Loizou. After completing my PhD in 2002, I was employed as a lecturer in the Information Security Group, Royal Holloway, University of London, where I was recently promoted to Reader.
I am a Reader in the Information Security Group at Royal Holloway, one of the largest academic groups of its type in the world. I teach the Computer Security course, one of the core units on the masters programme. I spend a large amount of my time on research, mainly applying mathematical models to various aspects of computer security and applied cryptography. I am a co-investigator on an EPSRC-funded project that examines novel security architectures for grid computing. I supervise four PhD students, one of whom is funded by Microsoft Research.
What made you decide to study for a qualification in computing?
I was using the macro language in Microsoft Excel 4.0 to automate much of the subscription allocation work at UNISON. This generated an interest in computer programming and a desire to learn more about computers in general.
Why did you choose Birkbeck?
The masters course had an excellent reputation and was convenient to get to.
How did your qualification help you in your career?
It directly led to me starting a PhD.
Did your time at Birkbeck help you in other ways?
It helped my self-confidence enormously. I had previously started a PhD immediately after my undergraduate degree, which I never completed. To get back into higher education and finally obtain a PhD was very rewarding. I met a couple of people who have since become very good friends.
Which parts of your course were particularly enjoyable or useful?
I particularly enjoyed Roger Mitton's teaching, the data structures course, and the relational database course.
Further information