Lenny White
BSc in Information Systems and Management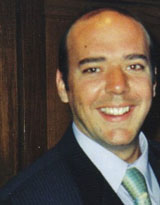 Within the first couple of weeks I knew I had made the right decision.
Why did you decide to do a degree and why at Birkbeck?
I had been working for an independent travel agent for about 6 years and had hit a ceiling in terms of salary. I knew that in other sectors of the economy sales people can earn tremendous amounts of money and I realised I needed to make a change, and after carrying out a fair bit of research, I found the BSc in Information Systems & Management degree at Birkbeck. I picked this degree, as I had repeatedly found excellent reports about Birkbeck and that a degree from this College would put me in a better position than a degree from some other lower standing establishments.
On reflection, what did you like best out of you time at Birkbeck?
I was initially concerned about returning to education after so many years, especially as I did not succeed academically at school. In fact, I hated learning at school, which is why I was so apprehensive. Within the first couple of weeks I knew I had made the right decision. I found the lectures and seminars more interesting than I ever imagined; the lecturers were very informative and clearly had passions for their subjects, which was reflected in their teaching. Learning became fun and enjoyable, which I think was frankly essential in helping me achieve my goal of a 2.1 with this four year degree!
Have you been able to put your degree to use?
Yes! I made the transition from working in travel industry sales across to IT sales. My position is a Business Development Role (internal sales) with BEA Systems, which is currently at the final stages of an acquisition by Oracle. This is a graduate entry position, but the aim is to gain as much product and market knowledge as possible so that I can take the next natural step into field sales, which is where I want to be. I wouldn't be here without the BSc in ISM.
Are you considering further study and if so, would you return to Birkbeck?
No, but yes!! My aim is to break into field sales as soon as possible with BEA/Oracle and this will require all my focus and energy. After that who knows? I certainly want to continue up the career ladder; so if in five years time I come to the conclusion that a Masters, for example, would give me greater opportunity to move into a Sales Director role, then I would probably look to Birkbeck first, where I'm fairly certain I'd find what I'm looking for pretty quickly!
Further information