Silas Pereira
MSc Information Systems and Management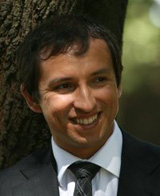 Technical and intellectual growth, confidence
After obtaining a BSc Computer Science degree in Brazil in 1999 I came to Europe where I had the opportunity to work first in Portugal and then in the UK. My experience was mainly in development positions ranging from web to financial systems development.
Current position/job
Senior Financial Software Engineer in one of the most well established financial companies in the world with its HQ situated in Boston-MA, and also with a presence in the City of London where I am based. My functions comprehend development of Windows and .NET financial systems, ad-hoc systems support to traders based in London and reporting to management in Boston.
What made you decide to study for a qualification in computing?
I had already my BSc in Computer Science, so computing was not exactly something new for me. But I definitely wanted to get up to date education, be informed at first hand of new trends as an insider in the academic community. Furthermore, it is my opinion that a Master's degree is the minimum qualification you need to be competitive in the market today.
Why did you choose Birkbeck?
Three reasons led me to choose Birkbeck:
The MSc Information Systems and Management program offered exactly what I needed which was a hybrid course with components from Computer Science/Information Systems and modules from the Management school.
The second reason was the possibility to keep working during my course and not lose a year of my career. With the flexibility provided by Birkbeck's class times I could, with the adequate effort, conciliate both part-time work and full-time study.
And lastly, to be a part of a great institution as the University of London is a privilege of a few, and I am truly thankful to have the opportunity to be amongst this A-class academic community.
How did your qualification help you in your career?
I had an immediate return on investment as I got a new job one month after I delivered my dissertation. The knowledge and the confidence acquired during my 12 months at Birkbeck were fundamental during my interviews and even during salary negotiations. I believe that the Birkbeck qualification stated on my CV was a factor that greatly contributed for the recruitment agents' approach.
Did your time at Birkbeck help you in other ways?
Technical and intellectual growth, confidence to speak in conference rooms, the ability to discuss new trends with my friends and seek of new information are some of the positive results from the time I spent at Birkbeck.
Which parts of your course were particularly enjoyable or useful?
Many of the subjects there were new for me such as Innovation Systems, Digital Creativity were very enjoyable and provided me with a great deal of insight. Information Systems and Object Oriented Design and Programming were two of the most useful modules that I can definitely apply on my daily professional career.