EU Code Week 2019 at Birkbeck
Posted: Wednesday, 6 November 2019 10:00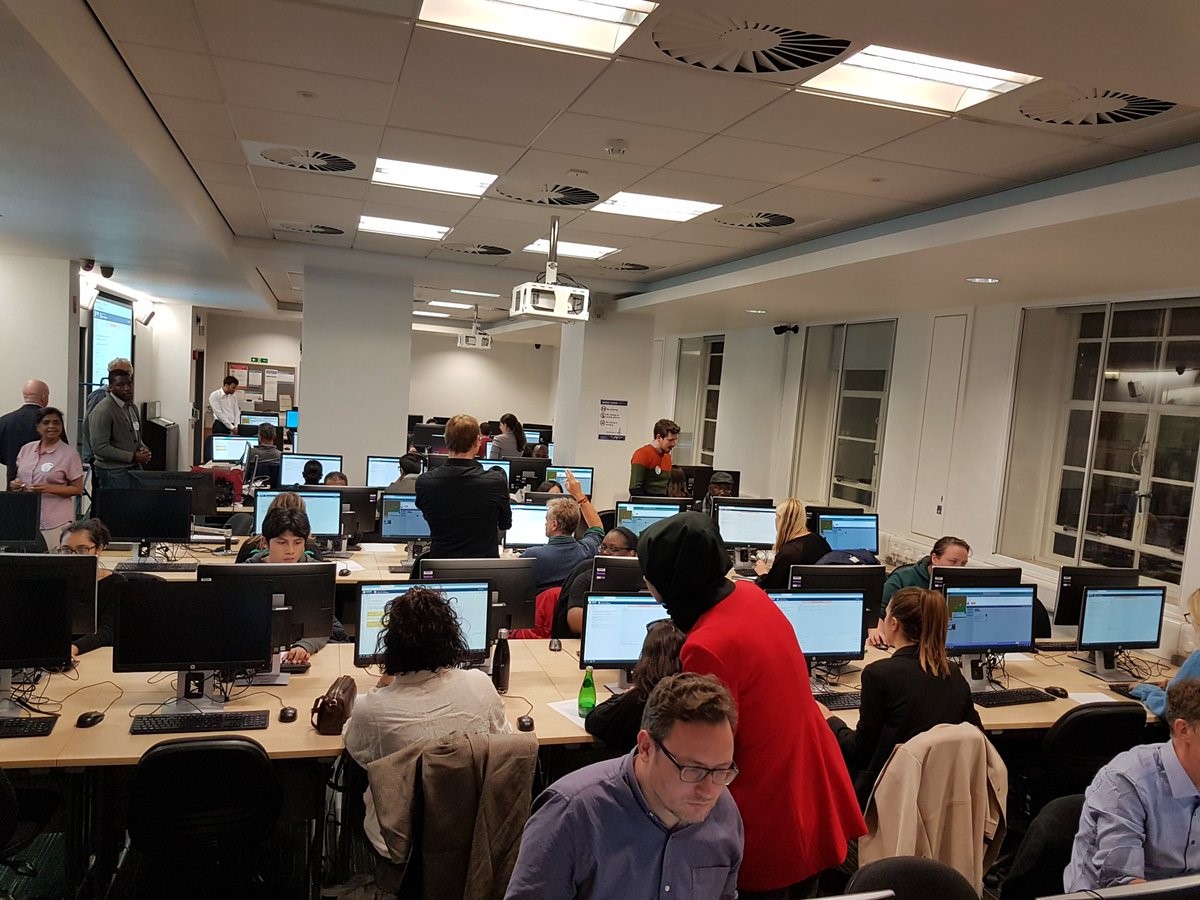 As part of the EU Code Week an EU Code event took place on 16th October organised by Dr Marija Katic and Emlyn Williams, both of whom are System Analysts/Developers in Birkbeck's ITS department. Several computer science students helped with the event.

Dr. Marija Katic, Systems Analyst and Developer, who manages and develops software projects at Birkbeck's ITS department, organized and led one-hour Coding Workshop for Birkbeck's students, prospective students and anyone else interested. The workshop was organized as a part of the initiative EU Code Week 2019. The initiative aims to promote coding in a fun and engaging way. More information is available here.
Participants had an opportunity to learn about the essential coding skills including conditionals and loops. At the beginning of the session, they were shortly introduced to these concepts using visual programming with characters from Angry Birds and Scrat from Ice Age. The main part of the session was focused on building a chatbot called Eliza using the programming language Python. The tutorials that were used were selected from the list of the teaching recommendations from the EU Code Week project.
Around sixty participants wrote small programs and received a Certificate of Completion for their success.
This event would not have happened without the help of many of our staff from Professional Services. A special contribution goes to Mr. Emlyn Williams, Systems Analyst and Developer from the ITS department, for his help. Many of our students volunteered in running of this workshop: PhD students Dilek Celik and Martin Kelly, MSc students Adam Elshimi, Shanjida Swaranika, Daniel Lack, Justin Boylan-Toomey, Assiya Amerguzhina, Maria Eleni Athanasopoulou, Harshida Rami, Ghazi Safa, and BSc students Manuel Jaraba and Jude Roberts. They helped with preparing the room, and they assisted participants with completed their programming tasks. Without our students volunteers it would have been hard or even impossible to run this workshop in such an engaging way for all the participants.