MSc in Computer Science
Programme Overview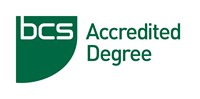 An intensive programme (formerly known as a conversion course) for graduates of other subjects than computer science.
The programme is accredited as partially meeting the educational requirement for Chartered IT Professional registration by the BCS.
One year full-time or two years part-time, day or evening. See FAQ for topics not covered here.
Modules currently include: programming in Java, object-oriented programming, software engineering using UML, information systems, databases including SQL using Oracle, internet technologies (languages for the Web and networks), computer systems (architecture and operating systems), fundamentals of computing, and a selection of optional modules. See programme handbook and Modules.
Applicants should have a good first degree or equivalent in any subject other than Computer Science and will be expected to demonstrate some aptitude for programming. Applicants without the usual academic qualifications may be considered but they will need to have significant experience in the IT industry. As the application process (including the aptitude test and its preparation) can take a few weeks, applicants are encouraged to apply early. Applications that arrive after 1st September (1st August for overseas students) are less likely to be successful.
You can download the aptitude test notes which help you in preparing for the aptitude test.
The course may be completed in one calendar year (October to September) of full-time study or two calendar years of part-time study.
Full-time students attend lectures in the daytime on four days a week. They will need to devote the rest of the working week to practical assignments and private study.
The part-time course may be taken as an evening course or by day-release.
Evening students attend lectures on either three evenings a week or two evenings a week during term-time (it varies from one term to another) and will need to spend further time to complete assignments. An evening lasts from 6.00pm to 9.00pm and consists of two lectures with a 20-minute break in between.
Day-release students attend in the morning and afternoon one day a week and also one other evening.
Part-time students should estimate the total time commitment of the course as 15 to 20 hours per week during term-time - that is, about half that expected of a full-time student - although not all of this time need be spent in College.
For more detail on the timetable, see programme handbook and Modules.
Dates and timetables are listed in the programme handbook, avalaible from the Downloads section of this page.
When you're looking to find the right place to study, some things really matter. For Birkbeck students, it's our reputation and the quality of our teaching
The programme starts in October each year. Application forms should be submitted to the College Registry. Applicants are invited for a short online aptitude test. Applications before 30 April are more likely to be successful. Reading the following document helps applicants in preparing for the test: aptitude test notes in Python​. Your applications will be processed by the college registry and we will be in touch to tell you what to do next.