Andrew Taylor
IT Applications Programme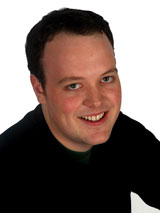 The course at Birkbeck was the best value for money
Since leaving university with Undergraduate and Masters degrees in English, 28 year old Andrew found himself working in web development and authoring, "I sort of fell into working in IT, but the time came when I wanted to have a formal qualification in the subject, particularly as job vacancies always insist on an IT qualification."
Talking about his decision to enrol on the Diploma in Multimedia and Web Authoring at Birkbeck, Andrew says, "IT courses can be very expensive, the course at Birkbeck was the best value for money. The central London location was also very handy for me, right next to where I work. Some of the modules on the course were things I had already done in my job, but some were completely new, it was a good balance."
Andrew who enrolled on the course with a friend said, "I really liked that the course was run by practitioners actually working in the industry, they gave real life practical examples, so we could see how to apply the things we were learning. My employers were also very supportive and when we were doing a particular subject as part of the course, they would let me work on a relevant project at work."
Andrew comments further, "The course has given me a lot more confidence. Since completing it I have changed jobs and now work as part of the web team for The Motley Fool, which is an independent, award winning personal finance website at www.fool.co.uk . In this role I am using everything I learnt at Birkbeck."