Erkan Mustafa
BSc in Information Systems and Management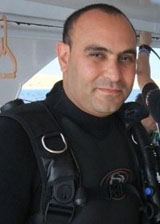 Searching high and low for a good degree and comparing many different courses with other institutes, the degree Birkbeck offer matched my needs more closely.
Brief career to date
From the middle of the 90's worked within the Microsoft Server Infrastructure sector of the IT Industry building systems for various applications from financial to e-mail.
Please summarise your current position/job
Managed Applications engineer. Design, implement and support bespoke systems for customers throughout the lifecycle of the solution. Advise customers where necessary on technical issues and future plans.
What made you decide to study for a qualification in computing?
After a few false starts in my younger days to obtain a degree my initial drive had to be for personal achievement, to say I did that as a part time student whilst also juggling personal commitments and a demanding job. My second thought is to how the degree would look to any future employers out there who would consider obtaining a degree a deciding factor amongst a long list of candidates. My final thought would be to further education in later years whilst moving towards more senior levels.
Why did you choose Birkbeck?
Initially I looked at location and course content. Birkbeck provided both a good central location with easy access by transport. Searching high and low for a good degree and comparing many different courses with other institutes, the degree Birkbeck offer matched my needs more closely. I opted for a degree which gave me both an Information Systems perspective and introduced me to management.
How did your qualification help you in your career?
At the time of writing, the country is in a tight grip of recession so having a degree is separating me a little more in the candidate race for a new role over those who may not hold such a qualification. Having obtained a 1st Class degree with honours, for me it is a very large tick in a box of attributes as a likely candidate for the next big move in my career. I can also look at a lot of processes currently running in my working environment and with confidence say "I know a better way of doing this".
Did your time at Birkbeck help you in other ways?
It showed me that with a lot of dedication what can be achieved with good hard work and commitment. I felt an immense amount of pride for my achievement and a huge boost to my confidence having seen the result of four years of commitment. As my aim initially was to resolve a personal drive to obtain my degree, you can imagine my pure delight of obtaining a 1st class degree with honours.
Which parts of your course were particularly enjoyable or useful?
If the question was what didn't you like the thought of before taking up the course, the answer would have been all the coursework, assignments and pretty much all the exams! In actual fact the reverse happened as they all gave me a pretty good understanding of the course content and challenged me quite effectively. The presentations to class colleagues also helped me identify weaknesses I could work on when presenting and by watching class colleagues carry out their presentation I picked up some valuable lessons. I also found that it could be quite enjoyable gathering with class colleagues outside of the college to prepare for assignments or a presentation by bouncing ideas off of like minded people all with the aim of getting good marks.
Having worked in the IT industry for quite a few years my most enjoyable moments were entering into weighted discussions with the lecturers! These great discussions all contributed to the learning factor and overall enjoyment of the course.
My most hated but at the same time most enjoyable aspect of the course had to be the final year project and a big thanks has to go my supervisor, Giovanna, who made sure I kept on track throughout the final year. The final year project really did wrap up many aspects of the course into a single focused drive to produce a class defining report.
In summary I thought the course as a whole gave me a good challenge and gave me a good basis to manoeuvre my next career decision on with good thought process when tackling tasks.
Further information