Maxine Herbert
IT Applications Programme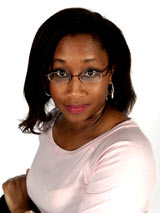 My tutors on the course are really helpful and have loads of practical experience.
Maxine (37) has had a long relationship with Birkbeck, she came here first of all to study for a foundation degree and she is now enrolled on a Diploma in IT Applications, she has done so well at the College that she has even been asked to teach some of the course modules. Talking about her previous experience of education Maxine says: "I enjoyed school up until I was about 16, but I really didn't like A-levels, so I started working. I got on well, but later I began to realise that I was being held back by my lack of qualifications."
Partly as a result of her Birkbeck courses, Maxine is now Training Manager for Ryman the Stationer: "My job is quite diverse; I give stand-up training, and write training workbooks. I am also building a training database using Access, which is why I enrolled on the IT course at Birkbeck and because of the practical implications of my course, my company agreed to pay for it."
Maxine goes on, "I had learnt about spreadsheets as part of my foundation degree, and I wanted to develop that further and also learn more about Access in order to help me in my job. From the foundation degree I learnt how to study, the IT course is more independent, but I feel comfortable with that."
"Thanks to Birkbeck I am more committed in everything I do. I started the IT course thinking about a training database but now I see the possibilities for all kinds of applications. My tutors on the course are really helpful and have loads of practical experience. We are constantly looking at real work scenarios, for example my company is about to covert to Open Office and my tutors are offering advice about how best to do this, so the course is directly integrated into my working life."
Further information