Sathya Srinivasan
MSc in Computer Science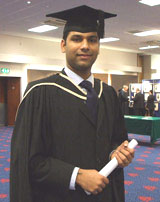 A gateway to better opportunities at work.
Sathya Srinivasan, a Senior Technical Consultant at Endeca Technologies, studied the MSc Computer Science on a part-time basis and graduated in 2006. He wanted to boost his career prospects by acquiring a University of London masters degree. The location of Birkbeck was convenient and his friends and family also recommended Birkbeck.
Sathya commented: "The MSc in Computer Science was a gateway to better opportunities at work. I am now a Senior Technical Consultant, thanks to the MSc for making me eligible to apply for that role." Commenting on the relevance of the syllabus he said, "I work on 'bleeding edge' Java technologies and have recently utilised algorithms, that were covered on the MSc, to solve one of our business requirements." He said that the two years of study had enabled him to approach complex problems confidently and apply his knowledge to produce solutions. "I had a fantastic time at Birkbeck and I am hoping to study there again. Birkbeck, for me, is a family - away from the family."
Further information