The Department of Computer Science and Information Systems at Birkbeck is one of the long-established computing departments in the UK, having celebrated our 50th anniversary in 2007. We provide a stimulating teaching and research environment for both part-time and full-time students.
The Department brings together research and teaching expertise related to our major research activities in Information Management and Web Technologies, Computational Intelligence and Information Systems.
Our world-class research activity informs our teaching and our interactions with business, public and third-sector organisations. We offer undergraduate, postgraduate and research degrees and skills-based courses.
News
We have a requirement for a permanent Lecturer A/B in Computer Science. We would particularly welcome applicants with expertise in software engineering, programming languages and systems, or data mining. The closing date for applications is 9th February 2015. further details ...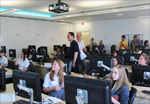 The inaugural "Bloomsbury Hack Day" on July 16th saw children from three schools participate in a programme of lab-based activities designed and guided by three top London universities located in Bloomsbury. more details...
Bloomsbury Hack Day video



Alex Poulovassilis and George Magoulas are participating in a new EU project, LIBE: Supporting Lifelong Learning with Inquiry-Based Education with other partners in Italy, Norway, Netherlands and Portugal. The project is developing a Virtual Learning Environment to support personalised development of literacy, numeracy and problem-solving skills through an inquiry-based approach to learning.
The School of Business, Economics and Informatics Business Week 2014 is from June 23 to June 26 and has a FIFA World Cup theme.
Steve Maybank was made a Guest Professor at the Northwestern Polytechnical University in Xian, PR China at a small ceremony held on Monday 14th April 2014.




The MSc Advanced Computing Technologies programme has a new pathway leading to the award of MSc Data Analytics for students wishing to specialise in the study of data analytics and data science. Applications are now being considered for October 2014 entry - further details...
Beate Grawemeyer and Sergio Gutiérrez-Santos will be Web Chair and Workshop Chair respectively at EDM 14, the 7th International Conference on Educational Data Mining.